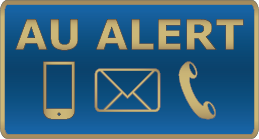 To ensure multiple means of emergency communication for our campus, Andrews University uses a third party company, Rave Mobile Safety, to send emergency notification alerts to the campus via AU Alert.

AU Alert sends out text messages, emails, and voice calls to registered recipients. The system will also post alerts to University Facebook accounts or Twitter accounts with the emergency information. AU Alert notices are intended only for situations involving imminent danger to health or human safety. These may include severe weather alerts, winter weather class cancellations, hostile threats, utility failure, major road closings or fire, among others.
To receive emergency alert text messages, emails, or voice calls login with your Andrews University username and password in the space above.
Rave Alert does not charge subscribers to send or receive SMS messages. Standard or other messaging charges apply depending upon your wireless carrier plan and subscription details. Once registered, you can opt out of SMS messages at any time by texting STOP to 67283 or 226787.